In memory of Rob Dale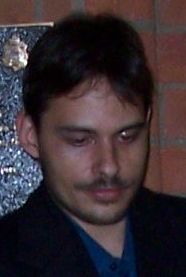 Nathan Robert Dale
7/8/1977 – 30/7/2008
Son of Helen Dinsmore (deceased) and Greg Dale;
brother of Jason and Sarah;
friend of Mark.
He will be terribly missed.
Rob designed acoustics and electronics for many well-known recording studios in Sydney.
He was exceptionally gifted. He excelled in maths at school and was always making and designing things.
He was good-humoured and understanding.
He died from a pulmonary embolism (a blood clot). Thanks to the ambulance crew and those at Royal Prince Alfred hospital for their efforts, and to Marrickville police for contacting Sarah.
---
A Tribute
It's a tragedy for the sound studio world that Rob did not fully realise the potential of his genius.
I was lucky to work with Rob for a short time around 2002 as we redesigned and rebuilt my music project studio.
He designed and installed an acoustic fit-out for my recording booth. It was a very awkward nasty sounding room, oblong and small. Since Rob's treatment (a large bass trap and other tuned acoustic panels) it sounds sweet and well balanced, and I have recorded some very good vocals, acoustic and electric guitar, and even live drums which sound amazing for such a small space.
As well as doing most of the wiring of the patch-bay and DAW interfaces, he helped Mark design a stereo/surround monitoring box which adjusts playback volume and switches between different speakers and amps . It is constantly in use in my studio, and to this day I haven't seen a commercial product that could replace it.
Rob's work is all around me, and I know I will continue to think of him often when I'm working.

Roy Nicolson
UPROAR MUSIC
Ph. +61 2 9310 2220
roy@uproarmusic.biz
---
To keep in touch please email contact@robdale.info